Hessan Woodworking Machine In America
05-12-2019
hessan woodworking machine in america
July 8,2019 ● AMERICA
The Sino-U.S. Trade war is underway in 2019, but this has not affected customers' plans to purchase equipment. The PUR lamination machine has reached a hot stage of development. This year, the equipment sold to the United States still accounts for a large proportion. The United States is a very focused product quality The country has extremely high requirements in terms of equipment details and production speed. Because of its excellence, it has been selected by American customers. Not only the equipment quality is recognized by customers, but also our after-sales service and response speed are also praised by customers. In the days to come, we will continue to work hard to advance and provide customers with better services.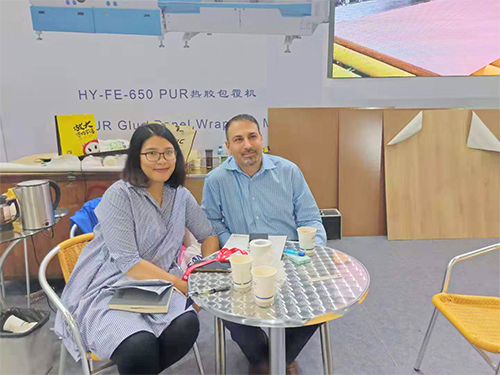 America winter temperature is very low, when using PUR hot melt adhesives please note that :
1. Please open your insulation room. If not, please build an insulation room immediately. Insulation room conditions: ambient temperature is not lower than 20 ° C, relative humidity > 40%
2. The glue temperature is increased by 5-10 °C on a summer basis.
3. Profile wrapping machine: aluminum surface temperature > 40 ° C; wood surface temperature > 35 ° C
4. Panel laminating machine: substrate surface temperature > 25 ° C; before the glue layer temperature on the board surface > 30 ° C.
5. The products must be placed in the insulation workshop (above 20 °C) for 24 hours before delivery.
6. If the temperature of your insulation room is low, you can increase the glue amount by 5-10 grams per square meter (the overall temperature of the melter is increased by 5-10°).
guangzhou hessan woodworking machinery co.,ltd
TEL:0086 020 34835968 ● EMAIL:info@gzhessan.com.cn