Hessan Woodworking Machine In Africa
05-12-2019
Hessan Woodworking Machine In Africa
July 14,2019 ● Africa
In recent years, the development of all walks of life in Africa has been very rapid, and the development speed of the furniture, building materials, plate, advertising and other industries it contacts has made everyone optimistic. Automatic panel lamination line is gradually recognized by African customers. The characteristics of PUR glue, good initial tack, strong adhesion, no cracking, no degumming, waterproof, etc. determine the quality of the product. The furniture made by PUR glue has always been a mid-to-high-end product without pollution and good quality. With Hessan Lamination Machine Line, the production speed is 5-17m / min, and the output of 2000 boards per day, which maximizes the profit.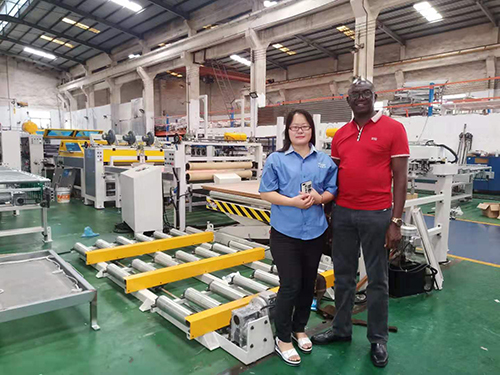 "African customer with Hessan auto pur lamination machine"
Pur glue is hot melt glue. The temperature in Africa is high and the climate is very suitable for the PUR process. I believe that PUR flat bonding equipment will have higher demand in Africa in the future.
guangzhou hessan woodworking machinery co.,ltd
TEL:0086 020 34835968 ● EMAIL:info@gzhessan.com.cn